THE FARMLAND MARKET-AUTUMN 2021
Supply to the UK farmland market has increased year on year with around 55,000 acres being offered for sale on the open market according to the Farmers Weekly annual tally to the end of September.
Whilst there has been an 11% annual increase in land brought to the market, only 1,234 acres of land was brought to the market at the end of September, representing a -23% difference compared to this time last year.   
Demand for this land has been steady, driven, in the main by farmer buyers but also by lifestyle and institutional buyers with a keen eye on environment and sustainability opportunities.  
In our region of North Yorkshire, County Durham, Northumberland and Cumbria, we have a similar message to report with supply levels up across the market sector with noticeably more arable acres (although mainly in bare land parcels) than in recent years.  
Farmers have been more active than non-farmers than in recent years with rollover funds released from the increasing demand for house building land, driving prices through competitive bidding, particularly on prime arable land.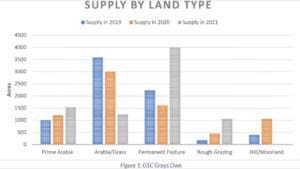 Competition is also increasing from several sectors on more marginal and hill land driven by demand for tree planting and other environment and sustainability criteria. 
Whilst discussions around possible retirement have become more regular, encouraged by the 'lump sum exit scheme', ultimately decisions on whether to leave the industry have come down to timing rather than any meaningful retirement incentive. Selling while demand is high and bidding competitive, has been much more likely to achieve a larger retirement pot, further supported by a favourable capital tax regime. 
Much less has been said about the impact caused by lifestyle buyers moving to the countryside in the search for more space. Such demand impacts on smaller land parcel sales and can distort average farmland price figures if not carefully analysed. Even with CGT to pay, small parcel sales can be hugely profitable for farmers selling to these buyers, but it makes it overly expensive for those wishing to add to their existing farm holdings. 
In summary, arable, rotational grass and most permanent pasture has seen values measured in low single figure increases this year as supply has generally been met by demand. Average prime arable land in North Yorkshire and the North East levels out at approximately £10,800 while rotational grassland is averaging £8,000 per acre as shown in the graph above taken from our own data sourcing.